Oblon, Spivak's Moot Court Room Featured on the March 2005 Cover of The Lawyers Magazine
March 31, 2005
– Firm News
The Lawyers, Vol. 1, No. 3
Featured on the March 2005 cover of
The Lawyers
Magazine (
see photo below
) is Oblon, Spivak's moot courtroom located on the top floor of their new office building in Alexandria, Virginia. Oblon, Spivak's state-of-the-art moot courtroom provides an excellent setting for its attorneys to prepare for the rigors of an actual trial. In preparation for oral argument before a Court, attorneys will often practice the argument to be made before the Court. A senior litigator in the firm will attend and critique the performance, and, at times, act as the judge. Sometimes, the client may also attend the practice sessions in the courtroom. The courtroom provides the firm's attorneys with a very realistic setting in which to practice their oral argument, and to perfect their strategy for the case.
The following article also appeared in the above issue: A Litigation Success Story: The AK Steel v. Sollac Case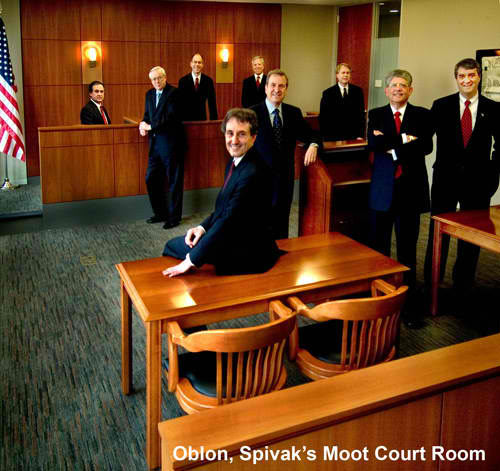 Pictured on the cover from left to right: Foreground: Arthur Neustadt, Norman Oblon, Marvin Spivak and Greg Maier.
Background: Richard Kelly