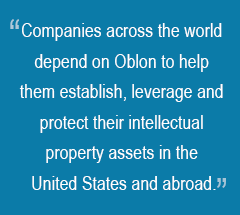 Firm Overview
Oblon is headquartered within steps of the United States Patent and Trademark Office (USPTO), and has an affiliate office in Tokyo, Japan. Oblon is one of the largest law firms in the United States focused exclusively on intellectual property law.
The Firm is consistently recognized as an industry leader, with annual accolades from reputable publications such as Chambers and Partners USA, U.S. News & Best Lawyers (named "a Best Law Firm"), Corporate Counsel Magazine (named a "Go-to" law firm by the top 500 U.S. companies), and Intellectual Property Today (ranked on the list of "Top Patent Firms"). The Firm has obtained more U.S. utility patents than any other firm in the world for 30+ years.
Oblon's attorneys and professionals collectively offer centuries of USPTO insight and expertise and serve as an invaluable resource to Oblon clients that have come to rely on the firm's uniquely qualified experts, including many former patent examiners and administrative patent judges (APJs). Today, most of Oblon's management team is made up of patent prosecution practitioners.
In addition to its renowned patent prosecution practice, the firm has a precedent-setting litigation practice, having litigated cases such as the Festo case before the U.S. Supreme Court. The Oblon litigation team has extensive knowledge and experience in all aspects of complex intellectual property litigation involving patent, industrial design and trade secret disputes.
Additionally, the firm's post-grant practitioners are some of the most experienced in the country. The Group routinely recovers patent portfolios made subject to post-grant disputes as a result of high-profile, concurrent litigation valued at hundreds of millions of dollars.
Our Clients
Our attorneys regularly work with business leaders, marketing professionals, scientists and technicians at our clients' companies. With an office in Tokyo, Japan, regular visits to domestic and foreign clients, and attorneys fluent in French, German, Japanese, Russian, Arabic, and many other languages, our attorneys communicate effectively with clients around the world. We also host client trainees, familiarizing them with the U.S. legal system, culture and business methods.