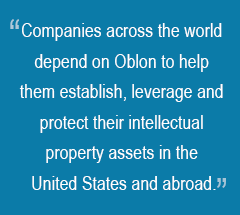 Firm Overview
Oblon is headquartered within steps of the United States Patent and Trademark Office (USPTO), and has an affiliate office in Tokyo, Japan. Oblon is one of the largest law firms in the United States focused exclusively on intellectual property law.
The Firm is consistently recognized as an industry leader, with annual accolades from reputable publications such as Chambers and Partners USA, U.S. News & Best Lawyers (named "a Best Law Firm" for 2023), Corporate Counsel Magazine (named a "Go-to" law firm by the top 500 U.S. companies), and Intellectual Property Today (ranked #1 on the list of "Top Patent Firms"). The Firm has obtained more U.S. utility patents than any other firm in the world for 30+ consecutive years.
Oblon's attorneys and professionals collectively offer centuries of USPTO insight and expertise and serve as an invaluable resource to Oblon clients that have come to rely on the firm's uniquely qualified experts, including many former patent examiners and administrative patent judges (APJs). Today, most of Oblon's management team is made up of patent prosecution practitioners.
In addition to its renowned patent prosecution practice, the firm has a precedent-setting litigation practice, having litigated cases such as the Festo case before the U.S. Supreme Court. The Oblon litigation team has extensive knowledge and experience in all aspects of complex intellectual property litigation involving patent, industrial design and trade secret disputes.
Additionally, the firm's post-grant practitioners are some of the most experienced in the country. The Group routinely recovers patent portfolios made subject to post-grant disputes as a result of high-profile, concurrent litigation valued at hundreds of millions of dollars.
Our Clients
Our attorneys regularly work with business leaders, marketing professionals, scientists and technicians at our clients' companies. With an office in Tokyo, Japan, regular visits to domestic and foreign clients, and attorneys fluent in French, German, Japanese, Russian, Arabic, and many other languages, our attorneys communicate effectively with clients around the world. We also host client trainees, familiarizing them with the U.S. legal system, culture and business methods.
Firm History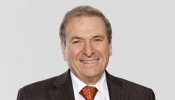 1968
Norman Oblon with Stanley Fisher and Marvin Spivak launched what was to become Oblon, McClelland, Maier & Neustadt, LLP, one of the nation's leading full-service intellectual property law firms. He was just 26 years old. Mr. Oblon met his future partners, Stanley Fisher and Marvin Spivak, at the U.S. Naval Laboratory, where they were all working as civilian patent advisors for the U.S. Navy. By the early 1970s Irvin McClelland and Gregory Maier had joined with Oblon, Fisher and Spivak and the firm became Oblon, Spivak, McClelland & Maier.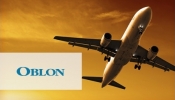 1973
Together the founders quickly landed a string of impressive clients in the U.S. and in Japan- a still-undiscovered market. The founders also co-authored a book designed to guide Japanese companies through the U.S. patent prosecution system. It was one of the first books of its kind to be published in Japanese. Nearly 50 years later, the firm boasts a significant Japanese client base and has been ranked first in the number of patents obtained for each of the last 30+ years.
1974
As the firm's patent prosecution work took off, Art Neustadt joined the firm to lead the litigation practice. The firm continued to expand its focus to include the areas of ITC litigation, patent interferences, patent reexamination/reissue, copyright, trademark, industrial designs, opinions and counseling.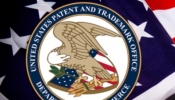 1980
Oblon created a robust client training program that it uses to this day to train overseas clients in U.S. patent law. This program continues to provide firm clients with an in-depth understanding of relevant issues as well as the various options available when important decisions need to be made.
In 1990 the firm adopted its current name.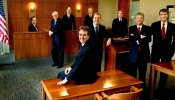 1993
As the firm grew, it developed a recruiting method that was mostly unheard of at the time. Instead of only hiring attorneys fresh from law school, it groomed talented academics for a successful law career by identifying promising Ph.D.s and paying their law school tuition. Thus, Oblon became one of the first firms to develop a cadre of credentialed attorneys who knew the USPTO Patent Examiners and understood science and technology.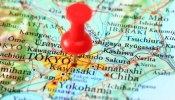 2009
The firm announces the opening of a new Oblon office in Tokyo, Japan, to better serve the firm's expansive and growing Japanese client base.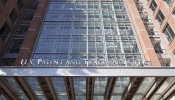 2015
After a re-branding effort, the firm changes its name to Oblon, McClelland, Maier & Neustadt, LLP, or simply "Oblon" and is headquartered in an expansive building located adjacent to the USPTO in Alexandria, Virginia. The firm operates an affiliate office in Japan to serve its large international client base. The firm's approximately 500 professionals, including nearly 150 legal professionals, provide clients across the world a full range of intellectual property law services.